Join us for the second event of The Future We Want: The Change We Need series, hosted by the City of Vancouver in partnership with SFU.
Beginning in the early 1970s, the percentage of Vancouver households living in rental units has been greater than 50%. Nevertheless, renters consistently face difficulties in finding housing that is adequate, stable and secure. In more recent years, rental affordability has become a particularly challenging and detrimental issue for many households. While some in the city may strive for home ownership, data tells us that this possibility has become increasingly out of reach, even for those with moderate incomes.
Given the reality that a majority of Vancouverites will most likely continue to live in rental housing, what does this mean for the next generation, for seniors and families, for low-income, racialized and marginalized households, and for the many others who do not see a secure housing future in Vancouver?
How must the City of Vancouver think differently about housing and the housing market to better meet the needs of its residents, ensuring priority for those with the greatest need?
What is required of a new city-wide plan to ensure the urgent and transformative change necessary to establish an equitable housing system?
Join us to discuss these questions at the second event in The Future We Want: The Change We Need series, hosted by the City of Vancouver in partnership with Simon Fraser University.
Speakers
Evan Siddall – President and CEO, Canada Mortgage and Housing Corporation
Evan is President and CEO of Canada Mortgage and Housing Corporation (CMHC), a role he has held since 2014. Evan leads a team of housing experts who share a single goal: that "By 2030, everyone in Canada will have a home that they can afford and that meets their needs." As CEO, Evan is especially passionate about growing leaders, and the merits of both a diverse workforce and the mental health of his colleagues.
Khelsilem – Squamish Nation Councillor
Khelsilem is Squamish and Kwakwa̱ka̱'wakw raised in North Vancouver, British Columbia. As the Squamish Nation Councillor, his lifelong work has been focused on governance, Indigenous languages, and dreams of progressive social change. He has served on various committees, including: Governance, Finance & Audit, Human Resources, and Housing Authority Development. He has strived to create good governance practices that enhance transparency, accountability, and ethical governing standards to benefit the Nation's members.
Barbara Steenbergen – Member of the Executive Committee, International Union of Tenants
Barbara Steenbergen has been committed to tenant protection for more than 19 years, starting in 2001 as head of the presidential office of the German Tenants' Union in Berlin and as political coordinator for energy policy and international affairs. Since 2013 she has been a member of the Executive Board of the International Union of Tenants. She is responsible for the political relations and representation of the interests of the European tenant associations towards the EU Commission, the EU Parliament and the EU Council. She is a German citizen and holds a master's degree in political science from the University of Bonn, Germany and a bachelor in public administration.
Leilani Farha – Global Director, The Shift
Leilani Farha is the former UN Special Rapporteur on the Right to Housing and Global Director of The Shift. She has helped develop global human rights standards on the right to housing, including through her topical reports on homelessness, the financialization of housing, informal settlements, rights-based housing strategies, and the first UN Guidelines for the implementation of the right to housing. She is the central character in the documentary PUSH regarding the financialization of housing, screening around the world.
William Azaroff – CEO, Brightside Community Homes Foundation
William is the CEO of Brightside Community Homes Foundation, an organization dedicated to making housing accessible for those who struggle to meet the demands of market housing in Vancouver. He was a long-time executive at Vancity, performing many senior leadership roles in his 14 years at the credit union. William is on the board of the BC Non-Profit Housing Association and is former chair of Modo, a car-sharing co-operative and the Vancity Community Foundation.
Andy Yan – Director, The City Program at Simon Fraser University
Andy Yan is the director of The City Program at Simon Fraser University. Born and raised in Vancouver, Andy Yan has extensively worked in the non-profit and private urban planning sectors with projects in the metropolitan regions of Vancouver, San Francisco, New York City, Los Angeles and New Orleans. Andy is a registered professional planner with the Canadian Institute of Planners. He is also an adjunct professor in Urban Studies at SFU as well as an adjunct professor in the School of Community and Regional Planning at the University of British Columbia.
Moderators
Meg Holden – Professor and Director, SFU Urban Studies
Meg Holden is professor and director of the urban studies program and professor in the department of geography at SFU. Meg is an urban environmental pragmatist. Her engaged research program examines urban policy, planning and social aspects of sustainable development intentions and transitions in cities and communities, with foci in value-based measurement and indicators, community well-being and livability, neighbourhood housing, planning and experience, and local democracy and justice.
Kerry Gold – Journalist and Globe and Mail Housing Columnist
Kerry Gold is a Vancouver-born journalist who's written a weekly housing column for the Globe and Mail for the last 13 years. She also writes investigative pieces for the Walrus, and has written for many other publications, including MSN, Yahoo, McLean's, MoneySense, BC Business, the Toronto Star, L.A. Weekly and Variety. She spent 11 years at the Vancouver Sun as a music critic and reporter. She also writes books on business, music and food.
About the Series
The future we want will not be achieved by applying the solutions of yesterday to the challenges facing our city and communities today. In collaboration with Simon Fraser University, the City of Vancouver presents The Future We Want: The Change We Need — a free, online, interactive dialogue series that brings together new and varied perspectives and ideas to shape the transformative social, economic and physical changes we need.
This series will invite knowledge keepers, thought leaders, changemakers and community members to discuss, deliberate and share their thoughts on the future of the City of Vancouver. These dialogues will contribute to the Planning Vancouver Together planning process, informed by policy analysis, scenario development and public engagement, to create a new, long-term strategic citywide plan looking to 2050 and beyond.
Each of the six conversations in this series will address the biggest challenges standing in the way of achieving our goals; and new ideas – big and small – to help unlock our collective potential as a truly just, resilient, sustainable, affordable and culturally vibrant Vancouver.
_________________________________________________________________________________________________
PARTNERS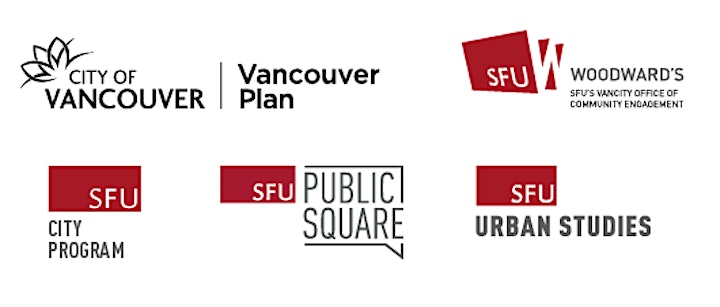 _________________________________________________________________________________________________
ACCESSIBILITY, TECHNOLOGY AND PRIVACY
Accessibility
Closed captioning and ASL interpretation will be available for this event.
Registration and password
A password to access this webinar will be sent to all registrants via email in the days and hours preceding the event.
Technology requirements
This workshop will be presented in a participatory webinar format. To engage fully you will need:
A laptop, computer, or smartphone
A webcam
A microphone
Speakers or headphones
Protecting your privacy
To ensure that we are using online meeting technology in a privacy-conscious way, we are following best practices for this online event series:
We will only circulate the meeting link to those who are registered for the event
We will password protect the meeting
We will enable end-to-end encryption
We will not use attention tracking
We will ask that participants use their first and last name as their display name on the webinar, so we can check incoming participants against the event registration list
To protect your own privacy we suggest that:
You use a unique email address to log into the webinar. This is so that the webinar platform can't cross-reference your profile with the rest of your digital profiles under your email address.
We suggest you do not use your Facebook profile to log into the webinar. This is so that the webinar platform can't cross-reference you with your Facebook account.
We remind you that whatever you say in the webinar is public and recorded, so please do not share sensitive information about yourself or others, and do not say anything you do not wish to enter the public domain.
To protect the privacy of others we ask that:
You do not record or photograph yourself, other participants, or the hosts during the webinar, unless permission is requested and given.
If you have any questions, concerns, or comments regarding this event's accessibility or privacy, feel free to connect with us at psqevent@sfu.ca.
________________________________________________________________________________________________
Commitment to community guidelines and social accountability
All participants are asked to participate as socially accountable community members. We ask that you provide your full name as your display name during the online meeting and that you review our community guidelines ahead of your participation in the event. This is to ensure the safety of our guests and speakers as well as foster honest and accountable dialogue between people in this space. Thank you for respecting our community guidelines!
Above all, there will be zero tolerance for those who promote violence against others on the basis of race, ethnicity, national origin, sexual orientation, gender identity, religious affiliation, or different ability. Anyone who incites harm towards other participants (be it through the chat, video or audio functions) will be removed at the discretion of our technical team and moderator.
Be as present as possible (put away phone, close/mute tabs).
Thoughtful questions are welcome in the chat throughout the session. If your question is for a particular speaker, type "@name" at the beginning.
Respect the opinions of others. Every participant brings information, points of view and ideas to contribute.
Don't assume pronouns/gender/knowledge based on someone's name or video image. We can refer to people using the usernames they provide!
Step up, step back: if you've asked a question or shared a comment, ensure that new voices are heard before you contribute again.
Practice self-care: if you need to get up or take a break, please feel free.